One Allah One Islam One Ummah One Purpose...
Previous Posts
Archives
Links
LANALLAH __Islamic BlogZine__
Wonders of ALLAH in DOLPHINS...
Otained from the works of Harun Yahya . For

dolphins,

breathing is not a reflex, as it is for humans and other land mammals, but rather a voluntary movement. In other words, dolphins decide to breathe like we decide to walk. There is also a precaution taken in order to prevent the animal's being drowned while sleeping in water. While sleeping, the dolphin uses the right and left hemisphere of his brain in turn, at approximately 15-minute intervals. While one cerebral hemisphere sleeps, the dolphin uses the other to come to the surface for air.


Dolphins breathe using their lungs just like other mammals, which means they cannot breathe in the water like fish. For this reason, they routinely come up to the water's surface to breathe. On the top of their heads is a hole enabling them to do just that. The bodies of dolphins have such a perfect design that, when it dives into the water, this hole is automatically closed by a cap, thus preventing water from leaking into the dolphin's body. When the animal comes up to the water's surface, the cap then reopens.





The snout of the dolphin's beak is another design facilitating the movements of the animal through water. By means of this structure, the animal uses less energy in cutting through the water and swimming at higher speeds. Modern ships, too, make use of a bow like the dolphin's snout, hydrodynamically designed to increase the speed of ships just like dolphins.





In addition, dolphins can swim at such great speeds that they dazzle scientists. There is a smooth flow of water around the bodies of dolphins. Research carried out on the skin of dolphins has discovered the reason for this flow. The skin of a dolphin consists of three layers. The outer layer is thin and very elastic. The middle layer is mostly composed of connective tissue and it has appendages looking like a plastic brush which anchor the outer layer to the middle layer. The third, inner, layer consists of bundles of elastic fibers. Therefore, when turbulence begins to form in the water around the speedily swimming dolphin, the outer skin transmits the extreme pressure caused by this turbulence to the inner layers and they absorb it. Thus, the turbulence that was beginning to develop disappears before it was able to grow.





All of these structures, ones exclusive only to dolphins among all other animals, are clear evidence of an intelligent design. Allah has created dolphins, like all other creatures, with their body structures in conformity with their surroundings.
A Delayed Response..
Sayd al-Khaatir by Ibn al-Jawzee
Translated by Zaynah ar-Rawahee

While talking to himself Ibn Al-Jawzi was blaming his soul in a gentle way. He said: I found myself in trouble, and so I made Du'aa consistently, all the while requesting relief and comfort. The response to my Du'aa seemed to be delayed, and so my soul became disturbed and worried.
However, I rebuked it saying, "Woe unto you; look attentively at yourself, are you the one possessed or are you the possessor? Are you the one that is controlled or are you the controller? Are you not aware that this world is the abode of tests for you? If you desire that your goals be fulfilled and become impatient when they are not, then, where is your test? Is it not the ultimate test when you get the opposite of whatever you desired?
"So, (dear restless soul) try to understand the meaning of the word 'Abd, and whatever is dear to you will become worthless, and whatever is difficult will become easy." After it deliberated over what I said, it became a little appeased.
I informed it that I had a second argument for it, and so I said, "Allah (azza wajal) is a necessary requirement in order for any of your aims to be fulfilled; yet you do not exhort yourself to work for His (azza wajal) pleasure. This is ignorance, as the matter should have been opposite to what you desire, primarily because you are the one possessed. (You should note) that the mindful 'Abd should make sure that he fulfills the rights due to the Master, and that it is not necessary that He (azza wajal) gives to Al-'Abd whatever he desires or loves."
It made it quieter yet I then mentioned that I had a third argument for it, and so I said, "You are under the impression that the response to your Du'aa has been slow; yet you were responsible for this because you closed the door of response (to your Du'aa) because of your constant sinning. If, however, you open the door [by developing Taqwa for Allah (azza wajal)], then the response (to your Du'aa) would arrive quicker, because having Taqwa for Allah (azza wajal) is the cause of all comfort." Allah (azza wajal) said:
"...And whoever fears Allah and keeps his duty to Him (Taqwa), He will make a way for him, to get out (from every difficulty), and will provide for him from sources that he never could imagine..." [At-Talaaq:2-3]
Therefore, understand that if you do not develop this Taqwa for Him (subhana wa ta'ala), the result will be different from what you expect. Woe is me from the drunkenness of mindlessness which became stronger than any other drunkenness in confronting the soul's aims to prevent them from reaching its hopes. It (the soul) knew that this was the truth, and so it became more tranquil still.
I said to it, "I have a forth argument for you, and it is that you seek a particular answer (to your Du'aa); yet you are not aware of the consequences that would result (if you were granted what you desire) because what you seek might be to your detriment. In this state you are like a feverish child asking for candy.
"(O soul) be conscious that your Master is more aware about your well-being than you are."
As He (azza wajal) said: "... And maybe you will dislike something that is good for You..." [Al- Baqarah:216]
When this became clear to the soul, it became more tranquil still. I then said to it, "I have a fifth argument for you, and it is that your demands would lessen your rewards and would reduce your status (with Allah). However, if you would request that which is good for your eternal abode (Al-Aakhirah), it would be better for you. (O soul) it is crucial that you understand what I have explained."
It said, "I meandered in the garden of your explanation, and as such I wandered when I understood."
A Cry from A Chat Victim...
A Cry from A Chat Victim Posted by Admin Sister on Tuesday, June 24 @ 18:07:45
Contributed by Admin Sister Translated By IslamWay Sisters
A Girl Wrote an email saying:
Assalam Aleikom wa Rahmatullah wa barakatuh
I hope you can be of use to me in this problem: I'm a 17 year old Arab girl living in an Arab country and still in high school.Unfortunately, I learned about the internet yet, I misused it and spent my days chatting with guys and watching prohibited websites (I did such things behind my parents back and no one knew about them) even though I used to be religious and hated girls who chatted with guys.I then got to know a 21 years old guy-through the "Messenger" living in the same country but of different nationality and we went on chatting till we exchanged true and untainted love "just for the sake of Allah".
He used to educate me about teachings of religion and lead me to righteousness and guidance. He allowed me to see him through a camera, we sometimes prayed together.Later he started to show me parts of his body which in return caused me to become an addict to the secret habit. Such situation went on for a month in which we learned a lot from each other. We maintained voice chatting and when I trusted him I allowed him to see me, my hair and most of my body parts through the computer camera.
My love for him grew more and I thought only of him and nothing else to the extent that I couldn't concentrate in my studies, consequently causing my level of educational pursuit to decline.He then told me about where he lived and so did I. I called him on his mobile a while after that and checked the validity of the information he gave me. He said he wanted to marry me, I agreed to his proposal for marriage, although I'm supposed to marry my cousin, yet I'm now so afraid of my parents' disapproval especially after he started to threaten me saying: "If you leave me I'll disgrace you and spread your pictures"! Also he said:" I'll cal you using the numbers you dialed to reach me and tell your folks all about you."
When I discussed this matter with him he said that it was just threats yet I feel that he is not threatening me and that he's really going to do something, and now I'm thinking seriously of leaving him and returning to the path of Allah.My parents are Muslims and religious and if they knew that I'm in love with a guy and actually in contact with him they're gonna kill me( by "kill" I mean beating and humiliating) to avoid the scandal and bad reputation.
I don't know what to do! I'm so scared;I want guidance; I want to be happy and safe; I'm sick of thinking and feeling scared.Please help me. Because of this problem I quit praying; I quit worshiping in general because I'm bored and desperate with my life; my sisters' reputation and futures-as well as mine- will be destroyed if I don't die, and I want to, today before tomorrow.I want to leave him but I fear the scandal. He will call back so how can I stop him? Will Allah forgive me if I return to his path? What are the conditions of repentance and how should I repent and?I fear that I may go back to what I used to do? Where's the way out? How could I get rid of my addict to the secret habit? And now that I suffer from sexual frigidity, how can I treat it without my parents knowing about it?
I seek your reply so bad; don't throw my mail away.Please help me as soon as you can; there's no one else to help me; please help me, please.The sister's message is over; a message that is truly rich with lessons and examples Is anyone out there willing to learn?
-------------------------------------------------- --------------------------------------------
I shall pause at her saying: ("… we exchanged true and untainted love, "just for the sake of Allah") The problem is that every girl thinks that the guy who tries to hit on her is her dream prince and the fulfiller of her dreams, while he is actually the prince who brings failure, the maker of sorrows and the destroyer of hopes.
She pictured such love to be (... true and untainted love…) but she smells the rotten of it all before the end of the story; and he appears to be a stereotype of those wolves who care for nothing except fulfilling their desires. The hopes are vanishing and the pains are aching and there he is threatening her saying: "If you leave me I'll disgrace you and spread your pictures"! Is this true and a "for the sake of Allah" kind of love?! This is the American way of love! She says: "I'm so scared; I want guidance; I want to be happy and§ safe; I'm sick of thinking and feeling scared"
Wasn't she at peace and overwhelming bliss, following the path of guidance and performing her prayers before stepping into the hellish land of "Chat"? Why is she scared now? Why did she quit praying? It's the ominous of disobedience that deprived her of the pleasure of obedience. What was she looking for in "Chat" vaults? Looking For happiness? She is left now screaming "I want to be happy and safe". How weird the following words are:" My parents are Muslims and religious and if they knew that I'm in love with a guy and actually in contact with him they're going to kill me to avoid the scandal and bad reputation (by "kill" I mean beating and humiliating)"
All this happened while the parents where inattentive to their child; they've been so careless and so wasting of the Trust. It's the ultimate confidence that parents have specifically in young ladies which results in such a disaster. A father may say: "I have sheer blind trust in my daughters and my unmarriageable relatives in general". They're no better than Mothers of the believers, nonetheless Allah Exulted and Majestic be He said about their ethics:" O Consorts of the Prophet! ye are not like any of the (other) women: if ye do fear (Allah), be not too complaisant of speech, lest one in whose heart is a disease should be moved with desire: but speak ye a speech (that is) just"; and Said about the Believers' ethics towards them:
" And when ye ask (his ladies) for anything ye want ask them from before a screen" Why did He say that?" that makes for greater purity for your hearts and for theirs". Is anyone out there willing to learn?"Verily in this is a Message for any that has a heart and understanding or who gives ear and earnestly witnesses (the truth)."
[Chapter 50, verse 37]
This message has been mailed to me and I took permission from the sister to publish it, and so I did with the exception her nationality.
You Must Know This Man..
You may be an antheist or an agnostic; or you may belong to any of the religious denominations that exist in the world today. You may be a communist or a believer in democracy and freedom. No matter what you are, and no matter what your ideological and political beliefs, personal and social habits happen to be - you must still know this man.
ENCYCLOPEDIA BRITANNICA confirms:
"....a mass of detail in the early sources show that he was an honest and upright man who had gained the respect and loyalty of others who were like-wise honest and upright men." (Vol. 12)
GEORGE BERNARD SHAW said about him:
"He must be called the Saviour of Humanity. I believe that if a man like him were to assume the dictatorship of the modern world, he would succeed in solving its problems in a way that would bring it much needed peace and happiness." (THE GENUINE ISLAM, Singapore, Vol. 1, No. 8, 1936)
He was by far the most remarkable man that ever set foot on this earth. He preached a religion, founded a state, built a nation, laid down a moral code, initiated numerous social and political reforms, established a powerful and dynamic society to practice and represent his teachings and completely revolutionized the worlds of human thought and behavior for all times to come.
"HIS NAME IS MUHAMMAD" May Peace of God Be Upon Him (pbuh)
He was born in Arabia in the year 570 C.E. (common era), started his mission of preaching the religion of Truth, Islam (submission to One God) at the age of forty and departed from this world at the age of sixty-three.
During this short period of 23 years of his Prophethood, he changed the complete Arabian peninsula from paganism and idolatry to worship of One God, from tribal quarrels and wars to national solidarity and cohesion, from drunkenness and debauchery to sobriety and piety, from lawlessness and anarchy to disciplined living, from utter bankruptcy to the highest standards of moral excellence. Human history has never known such a complete transformation of a people or a place before or since - and IMAGINE all these unbelievable wonders in JUST OVER TWO DECADES.
Lamartine, the renowned historian speaking on the essentials of human greatness wonders:
"If greatness of purpose, smallness of means and astounding results are the three criteria of human genius, who could dare to compare any great man in modern history with Muhammad? The most famous men created arms, laws and empires only. They founded, if anything at all, no more than material powers which often crumbled away before their eyes. This man moved not only armies, legislation, empires, peoples and dynasties, but millions of men in one-third of the then inhabited world; and more than that, he moved the altars, the gods, the religions, the ideas, the beliefs and souls....his forbearance in victory, his ambition, which was entirely devoted to one idea and in no manner striving for an empire; his endless prayers, his mystic conversations with God, his death and his triumph after death; all these attest not to an imposture but to a firm conviction which gave him the power to restore a dogma. This dogma was two-fold, the unity of God and the immateriality of God; the former telling what God is, the latter telling what God is not; the one overthrowing false gods with the sword, the other starting an idea with the words.
"Philosopher, orator, apostle, legislator, warrior, conqueror of ideas, restorer of rational dogmas, of a cult without images, the founder of twenty terrestrial empires and of one spiritual empire, that is MUHAMMAD. As regards all the standards by which Human Greatness may be measured, we may well ask, IS THERE ANY MAN GREATER THAN HE?" (Lamartine, HISTOIRE DE LA TURQUIE, Paris, 1854, Vol. II, pp 276-277)
The world has had its share of great personalities. But these were one-sided figures who distinguished themselves in but one or two fields, such as religious thought or military leadership. The lives and teachings of these great personalities of the world are shrouded in the mist of time.
There is so much speculation about the time and place of their birth, the mode and style of their life, the nature and detail of their teachings and the degree and measure of their success or failure that it is impossible for humanity to reconstruct accurately the lives and teachings of these men.
Not so this man. Muhammad (pbuh) accomplished so much in such diverse fields of human thought and behavior in the fullest blaze of human history. Every detail of his private life and public utterances has been accurately documented and faithfully preserved to our day. The authenticity of the record so preserved are vouched for not only by the faithful followers but even by his prejudiced critics.
Muhammad (pbuh) was a religious teacher, a social reformer, a moral guide, an administrative colossus, a faithful friend, a wonderful companion, a devoted husband, a loving father - all in one. No other man in history ever excelled or equaled him in any of these different aspects of life - but it was only for the selfless personality of Muhammad (pbuh) to achieve such incredible perfections.
MAHATMA GANDHI, speaking on the character of Muhammad, (pbuh) says in YOUNG INDIA:
"I wanted to know the best of one who holds today's undisputed sway over the hearts of millions of mankind....I became more than convinced that it was not the sword that won a place for Islam in those days in the scheme of life. It was the rigid simplicity, the utter self-effacement of the Prophet, the scrupulous regard for his pledges, his intense devotion to this friends and followers, his intrepidity, his fearlessness, his absolute trust in God and in his own mission.
These and not the sword carried everything before them and surmounted every obstacle. When I closed the 2nd volume (of the Prophet's biography), I was sorry there was not more for me to read of the great life."
THOMAS CALYLE in his HEROES AND HERO WORSHIP, was simply amazed as to:
"how one man single-handedly, could weld warring tribes and wandering Bedouins into a most powerful and civilized nation in less than two decades."
DIWAN CHAND SHARMA wrote:
"Muhammad was the soul of kindness, and his influence was felt and never forgotten by those around him." (D.C. Sharma, THE PROPHETS OF THE EAST, Calcutta, 1935, pp. 12)
EDWARD GIBBON and SIMON OCKLEY speaking on the profession of ISLAM write:
"'I BELIEVE IN ONE GOD, AND MAHOMET, AN APOSTLE OF GOD' is the simple and invariable profession of Islam. The intellectual image of the Deity has never been degraded by any visible idol; the honor of the Prophet has never transgressed the measure of human virtues; and his living precepts have restrained the gratitude of his disciples within the bounds of reason and religion." (HISTORY OF THE SARACEN EMPIRES, London, 1870, p. 54)
Muhammad (pbuh) was nothing more or less than a human being. But he was a man with a noble mission, which was to unite humanity on the worship of ONE and ONLY ONE GOD and to teach them the way to honest and upright living based on the commands of God. He always described himself as, 'A Servant and Messenger of God,' and so indeed every action of his proclaimed to be.
Speaking on the aspect of equality before God in Islam, the famous poetess of India, SAROJINI NAIDU says:
"It was the first religion that preached and practiced democracy; for, in the mosque, when the call for prayer is sounded and worshippers are gathered together, the democracy of Islam is embodied five times a day when the peasant and king kneel side by side and proclaim: 'God Alone is Great'... I have been struck over and over again by this indivisible unity of Islam that makes man instinctively a brother." (S. Naidu, IDEALS OF ISLAM, vide Speeches & Writings, Madras, 1918, p. 169)
In the words of PROF. HURGRONJE:
"The league of nations founded by the prophet of Islam put the principle of international unity and human brotherhood on such universal foundations as to show candle to other nations." He continues: "The fact is that no nation of the world can show a parallel to what Islam has done towards the realization of the idea of the League of Nations."
The world has not hesitated to raise to divinity, individuals whose lives and missions have been lost in legend. Historically speaking, none of these legends achieved even a fraction of what Muhammad (pbuh) accomplished. And all his striving was for the sole purpose of uniting mankind for the worship of One God on the codes of moral excellence. Muhammad (pbuh) or his followers never at any time claimed that he was a Son of God or the God-incarnate or a man with divinity - but he always was and is even today considered as only a Messenger chosen by God.
MICHAEL H. HART in his recently published book on ratings of men who contributed towards the benefit and upliftment of mankind writes:
"My choice of Muhammad to lead the list of the world's most influential persons may surprise some readers and may be questioned by others, but he was the only man in history who was supremely successful on both the religious and secular levels." (M.H. Hart, THE 100: A RANKING OF THE MOST INFLUENTIAL PERSONS IN HISTORY, New York, 1978, p. 33)
K. S. RAMAKRISHNA RAO, an Indian Professor of Philosophy in his booklet, "Muhammad, The Prophet of Islam," calls him the "PERFECT MODEL FOR HUMAN LIFE." Prof. Ramakrishna Rao explains his point by saying:
"The personality of Muhammad, it is most difficult to get into the whole truth of it. Only a glimpse of it I can catch. What a dramatic succession of picturesque scenes! There is Muhammad, the Prophet. There is Muhammad, the Warrior; Muhammad, the Businessman; Muhammad, the Statesman; Muhammad, the Orator; Muhammad, the Reformer; Muhammad, the Refuge of Orphans; Muhammad, the Protector of Slaves; Muhammad, the Emancipator of Women; Muhammad, the Judge; Muhammad, the Saint. All in all these magnificent roles, in all these departments of human activities, he is alike a hero."
Today after a lapse of fourteen centuries, the life and teachings of MUHAMMAD (pbuh) have survived without the slightest loss, alteration or interpolation. They offer the same undying hope for treating mankind's many ills, which they did when he was alive. This is not a claim of Muhammad's (pbuh) followers but also the inescapable conclusion forced upon by a critical and unbiased history.
The least YOU could do as a thinking and concerned human being is to stop for a moment and ask yourself: Could these statements sounding so extraordinary and revolutionary be really true? And supposing they really are true and you did not know this man MUHAMMAD (pbuh) or hear about him, isn't it time you responded to this tremendous challenge and put in some effort to know him?
It will cost you nothing but it may prove to be the beginning of a completely new era in your life.
We invite you to make a discovery of this wonderful man, Muhammad (pbuh), the like of whom never walked on the face of this earth.
A Sign of
Excellence
in ISLAM
...
By Shaiykh Nathim Sultan
Abu Hurayrah, may Allah be pleased with him, narrated that the Messenger of Allah, sallallahu `alayhi wa sallam, said, what translated means,
"A sign of one's excellence in his Islam, is ignoring what does not concern him."
Related by Ahmad, Malik & At-Tirmithi
The Status of this Hadith
Ibn Rajab said, "This Hadith is a basic and an important source of good behavior in Islam." Mohammad ibn Zayd, a great scholar of the Maliki Mathhab, said, "Four Hadiths comprise a perfect code of conduct. One of them is, 'Whoever believes in Allah and His Messenger should say that which is useful or keep silent.'
Another Hadith is when the Prophet sallallahu `alayhi wa sallam said to the man who sought his advice, 'Avoid getting angry.'
A third is the Hadith, 'The believer loves for his (believing) brother what he loves for himself.' The fourth is the above Hadith."
A Sign of Excellence in Islam
A sign of one's excellence in the religion, is his ignoring what does not concern him, including all things said or done. The Muslim should only participate in what concerns him, such as anything that is his property, right, obligation or under his control. To be concerned with something entails preserving and taking care of this thing that one is allowed to be concerned with.
As for the matters that do not concern one, they are in abundance. Usually, when a person tries to interfere in such matters that do not concern him, the tool frequently used for this is the tongue. Muslims are ordered to utter only good words, for Allah said, what translated means,
"Not a word he (man) utters, but there is a watcher by him ready (to record it)." [Qur'an 50:18]
Many people ignore the fact that in Islam, words are considered actions. Such people care not to preserve their tongues from uttering evil or nonsense. An-Nawawi said in his book, "Riyadh as-Saliheen",
"Know that everyone should only talk about what might lead to benefit. When talking and being silent are equal in benefit, then the Sunnah is to be silent. This is because to be talkative will usually lead to uttering evil, even if it starts with seemingly harmless words. One should always be on the safe side, a state that is indeed desired."
When a person utters only good words, he gains respect in his community. Likewise, if he is talkative and nosy, disrespect and a bad reputation are the result.
This Hadith indicates that ignoring what does not concern one, is a sign of his excellence in the religion. Being successful in working the righteous deeds and gaining an increase in the number of good deeds are all results of this better behavior. The number of sins will also decrease if one protects his tongue from uttering evil.
Abu Hurayrah(radhiyallahu anhyu) narrates,
"If you improve your Islam, then every good deed you work will increase (and will be multiplied) by ten folds to seven hundred times in reward. On the other hand, each sin is recorded according to its weight, until one meets Allah, the Exalted One." [Muslim]
Ignoring What Does Not Concern You
The only way to know right from wrong is through the Islamic Shari`ah (Law). What one wishes and desires do not count in this regard. The Prophet sallallahu `alayhi wa sallam has considered the one who ignores what does not concern him to be an excellent Muslim. Therefore, Islam alone must be consulted to define what does or does not concern a Muslim. Because many Muslims do not depend on the Shari`ah to define what they can or cannot participate in, they sometimes abandon their obligations or what they are supposed to do or say, thinking that this is not of their concern. They sometimes defy the rules of the religion by not advising their Muslim brothers, thinking that this also is not of their concern. Or, they indulge in what does not concern them, thinking that this is their concern. To get out of this confusion, one should always consult the Shari`ah to know what he is supposed to do or say.

Benefits from the Hadith
1 -- This Hadith encourages Muslims to use the time in a manner that brings about their benefit in this life and in the Hereafter.
2 -- Muslims should always be concerned with what is beneficial and constructive, and should avoid what does not bring about benefit and what does not preserve the honor.
3 -- This Hadith also encourages Muslims to strive hard to discipline their behavior, and to reject and abandon sins, dishonor and what brings about disrespect.
4 -- This Hadith also ordains avoiding interfering with other people's affairs, for unwarranted interference with other people's business causes divisions and hatred among Muslims.
COURTESY: www.everymuslim.com
DETAINED WITHOUT CHARGE
Detained Without Charge
Wed Apr 13, 4:47 PM ET

Op/Ed - The Nation
Peter Rothberg
Several weeks ago, two 16 year-old Muslim girls, one from Bangladesh and the other from Guinea, were arrested in New York City on the specious grounds that they were potential suicide bombers. Neither of the girls has been formally charged with any crime, but both have been detained indefinitely in facilities far away from their homes and families.

As Ari Berman
reported yesterday
, few details about the arrests have been released. What we do know, however, suggests that the charges could well be completely unfounded.
While both of the girls are in the United States illegally, both have also lived here for most of their lives. The
lead editorial
in yesterday's New York Times reveals that investigator's suspicions are curiously based on an essay written by one of the girls in her high school--an essay arguing that suicide is a violation of Islamic law. And while investigators maintain that the two suspects are friends who attended the same radical Mosque where they plotted together, their families say that they never even met before their arrests.
From the dearth of available information, it seems likely that the case of the teenage suicide bombers is simply a routine immigration investigation gone mad. Unfortunately, the rules of immigration hearings require the girls to prove they aren't suicide bombers, rather than the government to prove that they are.
A hearing is being held tomorrow, Thursday, April 14, so please click
here
to send a letter of support for the girls' lawyers to present to the court. There's also a rally being planned to support the girls. Check out and circulate the details and other info about the case on a new blog created to help defend the girls by clicking
here
Co-written by Mark Hatch-Miller


AHAD,AHAD !!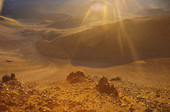 Ahad! Ahad!

Why shed these tears of sorrow?
Why shed these tears of grief?
Ya nafsy how soon you forget,
After trials come sweet relief

Why turn you from Ar-Rahman?
Why yearn for a listening friend?
Ya nafsy, do you not remember,
On ALLAH (SWT), you must depend?

Have you not read those stories,
Of the trials in days gone by,
Of the Sahabi beloved by ALLAH (SWT),
Who for ALLAH (SWT)'s cause did strive?

Why loosen your hold upon him?
Why fling away, His outstretched Hand?
Ya nafsy, do you not remember,
Bilal's Sabr on the blazing sand?

"Ahad! Ahad!" He cried,
While his flesh did drip and burn.
"Ahad! Ahad!" He cried,
To ALLAH (SWT) alone he turned.

Have you forgotten the firmness of Hamza,
As the gleaming swords did fall?
With Sabr he turned to ALLAH (SWT),
As the Quraish did slice and maul.

Why drown in salty tear drops?
How can you dare compare your pain?
To that of Yasir and Summayah,
As they lay tortured on the scorching plain?

Have you forgotten the charring of Khabbab,
As on burning coals he lay?
Ya nafsy how meagre your suffering,
Wherefore do you lose your way?
Why befriend you not Al-Wali?
Why not in Salat to Him complain?
Like Job who only to Allah,
Turned in all his grief and pain?
Forget you that trials in this life,
Cleanse your heart and make it clean?
Ya nafsy, why all this sadness?
Do you not wish your heart to gleam?

Be patient in all your hardships,
ALLAH (SWT) hears your cries of woe.
So trust Him and His Hikma,
For He knows best and not you.

So tighten your hold upon him,
Lest He withdraw His outstretched Hand!
And remember the example of Bilal,
As he lay anchored on the blazing sand.

"Ahad! Ahad!" he cried,
While his flesh did drip and burn.
"Ahad! Ahad!" he cried,
To ALLAH (SWT) alone he turned.
How a Muslim should deal with Stress and Anxiety
1). Ask ALLAH. He Listens: DU`A

Turn each anxiety, each fear and each concern into a Dua (supplication). Look at it as another reason to submit to God and be in Sajdah (prostration), during which you are closest to Allah. God listens and already knows what is in your heart, but He wants you to ask Him for what you want.

The Prophet salallahualahiwaslam said: Allah is angry with those who do not ask Him for anything
(Tirmidhi).

The Prophet salallahualahiwaslam once said that in prayer, he would find rest and relief (Nasai). He would also regularly ask for God's forgiveness and remain in prostration during prayer praising God (Tasbeeh) and asking for His forgiveness (Bukhari).



Allah wants you to be specific. The Prophet salallahualahiwaslam advised us to ask Allah for exactly what we want instead of making vague Duas. Dua is the essence of worship

(the Prophet as quoted in Tirmidhi).



"Call on your Lord with humility and in private: for Allah loveth not those who trespass beyond bounds. Do not make mischief on the earth, after it hath been set in order, but call on Him with fear. And longing (in your hearts): for the mercy of Allah is (always) near to those who do good" (Quran 7:55-56).

2. Tie your Camel: DO YOUR PART

One day Prophet Muhammad salallahualahiwaslam, peace and blessings be upon him, noticed a Bedouin leaving his camel without tying it. He asked the Bedouin, "Why don't you tie down your camel?" The Bedouin answered, "I put my trust in Allah." The Prophet then said, "Tie your camel first, then put your trust in Allah" (Tirmidhi).

Muslims must never become fatalistic. Although we know only Allah is in control and that He has decreed all things, we are each responsible for making the right choices and doing the right thing in all situations of our lives. We must take action. We must work to alleviate the hardships we, our families and our communities face.

Ask yourself the following questions if you are worried about the state of the world: are you part of the peace movement? Is your Masjid part of the peace movement? Are you part of an interfaith group with an agenda of peace and justice? Are you working with a group fighting discrimination? If your answer is no, it is time that you sat down to plan your share of time and money in finding solutions to the problems you face.

"Verily Allah does not change men's condition unless they change their inner selves" (Quran 13: 11).

Turn each worry into a Du`a and each Du`a into an action plan. That will show your commitment to your request and will focus your energy in the right direction.

3. Remember that human responsibility is limited

While we need to carry out our duty to the best of our abilities, always remember that you don't control the outcome of events. Even the Prophets did not control the outcome of their efforts. Some were successful, others were not. Once you have done your duty, leave the results to Allah. Regardless of the results of your efforts, you will be rewarded for the part you have played.

However, never underestimate your abilities. Understand the concept of Barakah (blessings from Allah) and remember that Allah can and Insha Allah will expand them if you are sincerely exerting your energies for the right path.

4. Leave the world behind you FIVE TIMES A DAY

Use the five daily prayers as a means to become more Hereafter-oriented and less attached to this temporary world. Start distancing yourself as soon as you hear Adhan, the call to prayer. When you perform Wudu, keep repeating Shahada, the declaration of faith, as water drops slip down your face, hands, arms, and hair. When you stand ready to pray, mentally prepare yourself to leave this world and all of its worries and stresses behind you.

Of course, shaytan will try to distract you during prayer. But whenever this happens, go back and remember Allah. The more you return, the more Allah will reward you for it. Also, make sure your Sajdas (prostrations) are talking Sajdas, in which you are really connecting to God and seeking His Mercy, praising Him, and asking His forgiveness.



5. Seek help through SABR



Seek help through Sabr and Salat (Quran 2:45).

This instruction from Allah provides us with two critical tools that can ease our worries and pain. Patience and prayer are two oft-neglected stressbusters. Sabr is often translated as patience but it is not just that. It includes self-control, perseverance, endurance, and a focused struggle to achieve one's goal. Unlike patience, which implies resignation, the concept of Sabr includes a duty to remain steadfast to achieve your goals despite all odds.

Being patient gives us control in situations where we feel we have little or no control. 'We cannot control what happens to us but we can control our reaction to our circumstances' is the mantra of many modern-day self-help books. Patience helps us keep our mind and attitude towards our difficulties in check.

6. Excuse Me! You are Not Running the World, HE is.

It is important to remind ourselves that we don't control all the variables in the world. God does. He is the Wise, the All-Knowing. Sometimes our limited human faculties are not able to comprehend His wisdom behind what happens to us and to others, but knowing that He is in control and that as human beings we submit to His Will, enriches our humanity and enhances our obedience (Uboodiah in Arabic) towards him. Read the story of the encounter of Moses with the mysteries behind God's decision (Quran: 18:60-82). Familiarize yourself with God's 99 Names, which are also known as His Attributes. It is a powerful way of knowing Him.

"God-there is no deity save Him, the Ever-Living, the Self-Subsistent Fount of All being. Neither slumber overtakes Him, nor sleep. His is all that is in the heavens and all that is on earth. Who is there that could intercede with Him, unless it be by His leave? He knows all that lies open before men and all that is hidden from them, whereas they cannot attain to aught of His knowledge save that which He wills them to attain. His eternal power overspreads the heavens and the earth, and their upholding wearies Him not. And He alone is truly exalted, tremendous." (Quran 2:255).



The Prophet salallahualahiwaslam recommended reading this verse, known as Ayat al kursi, after each prayer, Allah's peace and blessings be upon him. Once Ali, may Allah be pleased with him, approached the Prophet during a difficult time and he found the Prophet in Sajda, where he kept repeating "Ya Hayy Ya Qayyum", words which are part of this verse.



7. Birds Don't Carry their Food

Allah is al Razzaq (the Provider).

"How many are the creatures that carry not their own sustenance? It is Allah Who feeds them and you, for He hears and knows all things (Quran 29:60)."

By reminding yourself that He is the Provider, you will remember that getting a job or providing for your family in these economically and politically challenging times, when Muslims are often the last to be hired and the first to be fired, is in God's Hands, not yours. As Allah says in the Quran:



"And He provides for him from (sources) he never could imagine. And if anyone puts his trust in Allah, sufficient is (Allah) for him. For Allah will surely accomplish His purpose. Verily, for all things has Allah appointed a due proportion (Quran 65:3).



8. ALLAH controls Life and Death

If you fear for your physical safety and security, remember that only Allah gives life and takes it back and, that He has appointed the time for it. No one can harm you except if Allah wills. As He says in the Quran:



"Wherever you are, death will find you out, even if you are in towers built up strong and high!" (Quran 4:78).





9. Remember that life is short



It's easy to get caught up in our own stress and anxiety. However, if we remember that our life is short and temporary, and that the everlasting life is in the Hereafter, this will put our worries in perspective.

This belief in the transitory nature of the life of this world reminds us that whatever difficulties, trials, anxieties, and grief we suffer in this world are, Insha Allah, something we will only experience for a short period of time. And more importantly, if we handle these tests with patience, Allah will reward us for it.



10. Do Zikr, Allah, Allah!



"... without doubt in the remembrance (Zikr) of Allah do hearts find tranquility"
(Quran 13:28).

If you commute, use your time in Zikr. Pick any Tasbeeh and do that instead of listening to the radio or reading the newspaper. Maybe you can divide it up between Zikr and planning. Personally, I recite the Tasbeeh of "Subhana Allahe wa be hamdihi, subhan Allahil Azeem" 100 times as I drive. The Prophet taught us these two short phrases which are easy to say but will weigh heavy on our scale of good deeds in the Hereafter.

When your heart feels heavy with stress or grief, remember Allah and surround yourself with His Zikr. Zikr refers to all forms of the remembrance of Allah, including Salat, Tasbeeh, Tahmeed, Tahleel, making supplication (Dua), and reading Quran.



"And your Lord says: 'Call on Me; I will answer your (prayer)..." (Quran 40:60)



By remembering Allah in the way He has taught us to, we are more likely to gain acceptance of our prayers and His Mercy in times of difficulty. We are communicating with the only One Who not only Hears and Knows all, but Who can change our situation and give us the patience to deal with our difficulties.

"Remember Me, and I shall remember you; be grateful to Me, and deny Me not"
(Quran 2:152).

11. Relying on Allah: Tawakkul

When you awaken in the morning, thank Allah for giving you life after that short death called sleep. When you step out of your home, say 'in Your Name Allah, I put my trust in Allah, and there is no power or force except with Allah' (Bismillahi Tawakal to al Allah wa la hawla wa la quwwata illa billah). At night, remember Allah, with His praises on your lips.

Once you have established a plan you intend to follow through on to deal with a specific issue or problem in your life, put your trust in the most Wise and the All-Knowing.

"When you have taken a decision, put your trust in Allah" (Quran 3: 159).

Rely on Allah by constantly remembering Him throughout your day. When you
lay down to sleep, remember that sleep is death. That is why one of the recommended supplications before going to sleep is "with Your (Allah's) Name I die and become alive".

12. Connect with other human beings

You are not alone. Muslims are not alone. We are not suffering in silence. There are millions of good people who are not Muslim with beautiful hearts and minds. These are people who have supported us, individually and collectively, post-9/11, by checking up on us and making sure we are safe. These are individuals and organizations who have spoken up in defense of Muslims as we endured harassment and discrimination.

We must think of them, talk to them, connect with them, and pray for them. Through our connections, we will break the chain of isolation that leads to depression and anxiety.

13. Compare your dining table with that of those who don't have as much as you do

The Prophet said: Whenever you see someone better than you in wealth, face or figure, you should look at someone who is inferior to you in these respects (so that you may thank Allah for His blessings) (Bukhari, Muslim).



Also remember that the Prophet only encouraged us to compare ourselves to others in two respects: in our Islamic knowledge and level of belief in God (Deen). In these two areas, we should compare ourselves with those who have more than what we do.



14. Say it Loud: Allahu Akbar, Allahu Akbar: Takbirat & Adhan

Find a corner of a lake, go out in the wilderness, or even stand on your lawn at your home and call the Adhan with your heart. While driving, instead of listening to the same news over and over again, say Allahu Akbar as loudly as you can or as softly as you want, based on your mood. Year ago, I remember calling Adhan on a Lake Michigan shore in Chicago after sunset as the water gushed against my knees. I was calling it for myself. There was no one else accept the waves after waves of water with their symphony. It was relaxing and meaningful. Allahu Akbar, Allahu Akbar.

17. Work for the Unity of Muslims

Bringing Muslims together will not only help the Muslims, but it will also encourage you to focus your energies on something constructive versus zeroing in on and consistently fretting about difficulties you are going through.

Invite Muslims from other ethnic groups to your functions. Visit Masjids other than yours in your city. When you meet a Muslim leader, after thanking him for his efforts, ask him what he is doing for Muslim unity. Ask Imams to make Dua for this. These are just small ways you can help yourself and the Muslim community.

18. Sleep the way the Prophet slept

End your day on a positive note. Make Wudu, then think of your day. Thank Allah for all the good things you accomplished, like Zikr and Salat. Ask yourself what you did today to bring humanity together and what you did to help Muslims become servants of humanity. For everything positive, say Alhamdu lillah (Praise be to Allah). For everything negative say Astaghfirullah wa atoobo ilayk (I seek Allah's forgiveness and I turn to You [Allah]). Recite the last two chapters of the Quran, thinking and praying as you turn on your right side with your hand below your right cheek, the way the Prophet used to sleep. Then close your day with the name of Allah on your tongue. Insha Allah, you will have a good, restful night.

19. Begin the Day on a Positive Note

Get up early. Get up thanking God that He has given you another day. Alhamdu lillahil lazi ahyana bada ma amatana, wa ilaihin Nushoor (Praise be to Allah Who gave us life after death and unto Him will be the return). Invest in an audio tape driven alarm clock so you can get up to the melody of the Quran. Or Let Dawud Wharnsby's joyful notes put you in a good mood. Sing along if you like. Develop your to do list for the day if you didn't do it the night before. Begin with the name of Allah, with Whose name nothing in the heavens or the earth can hurt you. He is the Highest and the Greatest.



(Bismillahillazi la yazurru maa ismihi shaiun fil arze wa la fis samae, wahuwal Alee ul Azeem).The Prophet used to say this after every Fajr and Maghrib prayers

.

20. Avoid Media Overexposure: Switch from News to Books

Don't spend too much time checking out the news on the radio, television or internet. Spend more time reading good books and journals. When you listen to the persistent barrage of bad news, especially relating to Muslims nowadays, you feel not only depressed, but powerless. Cut down media time to reduce your stress and anxiety. It's important to know what's going on but not to an extent that it ruins your day or your mood. (similarly, when you are in a sad mood, refrain from wallowing and listening to sad songs)

21. Pray for Others to Heal Yourself.

The Prophet was always concerned about other people, Muslims and non-Muslims, and would regularly pray for them. Praying for others connects you with them and helps you understand their suffering. This in itself has a healing component to it. The Prophet has said that praying for someone who is not present increases love.

22. Make the Quran your Partner

Reading and listening to the Quran will help refresh our hearts and our minds. Recite it out loud or in a low voice. Listen to it in the car. When you are praying Nafl or extra prayers, pick it up and use it to recite portions of the Quran you are not as familiar with. Connecting to the Quran means connecting to God. Let it be a means to heal your heart of stress and worries. Invest in different recordings of the Quran and their translations.

"O humanity! There has come to you a direction from your Lord and a cure for all [the ills] in men's hearts - and for those who believe, a Guidance and a Mercy" (Quran 10:57).

23. Be thankful to Allah

"If you are grateful, I will give you more" (Quran 14:7).

Counting our blessings helps us not only be grateful for what we have, but it also reminds us that we are so much better off than millions of others, whether that is in terms of our health, family, financial situation, or other aspects of our life. And being grateful for all we have helps us maintain a positive attitude in the face of worries and challenges we are facing almost daily.

24. Ideals: ONE STEP AT A TIME

Ideals are wonderful things to pursue. But do that gradually. Think, prioritize, plan, and move forward. One step at a time.

25. EFFORT not Results Count in the Eyes of Allah



Our success depends on our sincere efforts to the best of our abilities. It is the mercy of Allah that He does not demand results, Alhamdulillah. He is happy if He finds us making our best sincere effort.

Thank

you

Allah!
What It Means To Be Poor...
One day a father of a very wealthy family took his son on a trip to the country with the firm purpose of showing his son how poor people can be. They spent a couple of days and nights on the farm of what would be considered a very poor family.

On their return from their trip, the father asked his son, "How was the trip?" "It was great, Dad." "Did you see how poor people can be ?" the father asked. "Oh Yes" said the son. "So what did you learn from the trip?" asked the father.

The son answered, "I saw that we have one dog and they had four. We have a pool that reaches to the middle of our garden and they have a creek that has no end. We have imported lanterns in our garden and they have the stars at night. Our patio reaches to the front yard and they have the whole horizon.

We have a small piece of land to live on and they have fields that go beyond our sight. We have servants who serve us, but they serve others. We buy our food, but they grow theirs. We have walls around our property to protect us; they have friends to protect them."
With this the boy's father was speechless. Then his son added, "Thanks dad for showing me how poor we are."

Author: Unknown
Courtesy: www.everymuslim.com

Wonders of Allah : Ants



Ants live in colonies and a perfect division of labor exists amongst them. When we take a closer look at their systems, we shall also see that they have a pretty interesting social structure. It will also come to our attention that they are capable of sacrifice at a much higher level than humans are. One of the most interesting points is that - compared to humans - they do not know the concepts such as the rich-poor discrimination and the fight for power that are observed in our societies.

Many scientists, who for years have been doing extensive research on ants, have not been able to clarify the subject of their advanced social behavior. Caryle P. Haskins, Ph.D., the president of the Carnegie Institute at Washington has this to say:
After 60 years of observation and study, I still marvel at how sophisticated the ants' social behavior is. ...The ants thus make a beautiful model for our use in studying the roots of animal behavior. (National Geographic, vol.165, no.6, p. 775)

Some colonies of ants are so extensive with respect to population and living area, that it is impossible to explain how they can form a perfect order over such a vast area. Therefore, it is not easy not to concur with Dr. Haskins.

As an example of these large colonies we can give the species of ant, called Formica Yessensis that lives on the Ishikari coast of Hokkaido. This ant colony lives in 45,000 interconnected nests over an area of 2.7 square kilometers. The colony, which is composed of approximately 1,080,000 queens and 306,000,000 workers, has been named the "Super colony" by the researchers. (Bert Hölldobler-Edward O.Wilson, The Ants, Harvard University Press, 1990, p. 1.) It has been discovered that all production tools and food are exchanged in an orderly fashion within the colony.

It is very hard to explain how the ants have maintained this order without any problems, considering the vast area they are living in. We must not forget that various security forces are needed for enforcing law and maintaining social order, even in a civilized country with a low population density. And there is an administrative staff leading and managing these units. Sometimes, it does not become possible to maintain the required order without problems despite all these intense efforts.

Yet in ant colonies there is no need felt for police, gendarmerie or guards. If we consider that actually the duty of the queens, whom we think of as the leaders of the colonies, is just to maintain the species, they do not have a leader or a governor. There is thus no hierarchy based on a chain of command amongst them. Then who is it that lays down this order and maintains its continuity?

The fact that ants can establish such a great and perfect order is proof that they are acting on the inspiration of a certain "supervisor". The verse below fully confirms that God is the master and supervisor of everything and that every living creature acts on His inspiration:

I have put my trust in God, my Lord and your Lord. There is no living being He does not hold by the forelock and inspect! My Lord is on a straight path. (Surah Hud: 56)
THE TEA CUP
This is a great story that we could all benefit from.
It is a simple reminder of how "Allah" is the potter of our life and we are the clay. "Allah" is the shaper of each of our lives and when struggles seem overwhelming, we need to remind ourselves that these struggles serve a purpose in making us stronger, wiser, and in the perfect image that "Allah" has for each of His creations.

There was a couple who used to go to England to shop in the beautiful stores. They both liked antiques and pottery and especially teacups. This was their twenty-fifth wedding anniversary.

One day in this beautiful shop they saw a beautiful teacup. They said, "May we see that? We've never seen one quite so beautiful." As the lady handed it to them, suddenly the teacup spoke.

"You don't understand," it said. "I haven't always been a teacup. There was a time when I was red and I was clay. My master took me and rolled me and patted me over and over and I yelled out, 'Let me alone', but he only smiled, 'Not yet.'

"Then I was placed on a spinning wheel," the teacup said, "and suddenly I was spun around and around and around. Stop it! I'm getting dizzy! I screamed. But the master only nodded and said, 'Not yet.'

Then he put me in the oven. I never felt such heat. I wondered why he wanted to burn me, and I yelled and knocked at the door. I could see him through the opening and I could read his lips as he shook his head, 'Not yet.'

Finally the door opened, he put me on the shelf, and I began to cool. 'There, that's better', I said. And he brushed and painted me all over. The fumes were horrible. I thought I would gag. 'Stop it, stop it!' I cried. He only nodded, 'Not yet.'

Then suddenly he put me back into the oven, not like the first one. This was twice as hot and I knew I would suffocate. I begged. I pleaded. I screamed. I cried. All the time I could see him through the opening nodding his head saying, 'Not yet.'

Then I knew there wasn't any hope. I would never make it. I was ready to give up. But the door opened and he took me out and placed me on the shelf. One hour later he handed me a mirror and I couldn't believe it was me. It's beautiful. I'm beautiful.'

'I want you to remember, then,' he said, 'I know it hurts to be rolled and patted, but if I had left you alone, you would have dried up. I know it made you dizzy to spin around on the wheel, but if I had stopped, you would have crumbled. I knew it hurt and was hot and disagreeable in the oven, but if I hadn't put you there, you would have cracked. I know the fumes were bad when I brushed and painted you all over, but if I hadn't done that, you never would have hardened; you would not have had any color in your life. And if I hadn't put you back in that second oven, you wouldn't survive for very long because the hardness would not have held. Now you are a finished product. You are what I had in mind when I first began with you'.

MORAL: "Allah" knows what He's doing for all of us. He is the potter, and we are His clay. He will mold us and make us, so that we may be made into a flawless piece of work to fulfill His good, pleasing, and perfect will, which we can never escape.

Words of Wisdom : Lessons of life:

Every situation is a lesson to be learned. From the most mundane chores to the most complex projects, life is always ready to teach you something.

Life is ready to teach when you are willing to learn. And the more you learn from what life offers, the better life becomes.

The lessons are usually not all that obvious. Yet they are there if you will think to take a look. The lessons are there in every moment, in every dilemma, in every frustration and every joy. They are there in every sadness, every victory, every discomfort and every pleasure
Youth…. to Life
By
El-Sayed M. Amin

March 31, 2005

The youth enjoy a very special status in Islam. Whenever the youth are mentioned, one recalls the turning points in the history of Islam and how they played their distinguished roles that were taken as examples for others in later ages.
Many of the Prophet's Companions (may Allah be pleased with them) played major roles in reshaping the face of life in their respective communities. They were the epitome of trust, honor, gentleness, bravery, and kindness. `Ali ibn Abu Talib, for example, was the first young man to accept Islam and from the moment he embraced the new religion he was fully committed to its teachings. He slept in the Prophet's bed on the night of the Hijrah when the people of Makkah surrounded the Prophet's house plotting to kill him. The Prophet also entrusted `Ali to deliver the deposits he had been entrusted with back to their owners and `Ali carried out the task successfully.

Nowadays, we are really in need of youth who are both active and proactive in life. Young Muslim people should never be idle or an added burden on their family's budget or on their society. We have to interact and make good relations with all the people around us. Our time is very precious simply because it is our age. Islam considers it a shameful sin for a young person to refrain from being a vital tool in life. In more than one Prophetic hadith, the Prophet (peace and blessings be upon him) stated that a Muslim will be asked on the Day of Judgment about his youth and how he spent it. Thus, it is a big responsibility and each of us should shoulder it with feelings of ambition.

The Prophet of Islam was really a unique example in being active in his community. For such activity and truthfulness, he was known among his people as As-Sadiq al-Amin or the truthful and honest. He loved work and he himself worked in rearing and keeping sheep for Khadijah who really admired his honesty to the extent that she herself proposed marriage to him.

Not only Prophet Muhammad, but also Prophet Joseph was heavily tested in his morals but he declined to submit to base desires.

Our role as youth is to become active in the life around us and strive to make real changes by:

1. Refraining from vices in all their forms, and replacing our bad habits with good ones.
2. Epitomizing the good shining examples of the early generations of Muslims as well as the active roles of Allah's prophets in their respective communities.

3. Managing our faculties as young people and making real changes by joining hands with all useful interactive projects in our local communities.

4. Understanding Islam in its wider concept, and making use of its rich literature concerning youth.

5. Recharging our spiritual batteries and reevaluating our approaches to life.

6. Being a comprehensive source of guidance in all life affairs to the best of our abilities.

7. Mastering worldly knowledge, and keeping up-to-date with sophisticated technologies.

8. Offering a helping hand to those in need, and being a source of comfort, not only to human beings but also to animals as well as all the kinds of nature around us.

9. Ascribing our personal achievements to the impacts Islam left on us, and showing others the real traits of the pious Muslims.

10. Feeling that we are part and parcel of the world we are living in, and avoiding ivory tower notions.

With these and many other tips, I think we will leave an indelible mark upon the face of this earth, and at the same time we will be better managing our resources as young people in a peaceful and more interactive way.

courtesy: Islamonline.net